2023 Mazda 3 Review
The 2023 Mazda 3 is a compact car that combines stylish design, advanced technology, and exhilarating performance. With its sleek exterior, comfortable and refined interior and innovative features, the Mazda 3 delivers an engaging driving experience that excites and exceeds expectations.
The interior of the 2023 Mazda 3 is thoughtfully designed with a host of features to enhance comfort, convenience, and connectivity. The centerpiece is the impressive 8.8-inch wide color display with Mazda Connect, providing a user-friendly interface for entertainment, communication, and available navigation features. Keeping convenience at the forefront, you will find the steering wheel comes with Bluetooth and audio controls, allowing easy access to phone calls and music playback. For device charging and connectivity, there are two USB ports available. To ensure optimal comfort, the 2023 Mazda 3 offers air conditioning with manual climate controls, allowing occupants to customize their preferred temperature settings.
The exterior of the 2023 Mazda 3 showcases a sleek and modern design complemented by a range of notable features. LED headlights and daytime running lights enhance visibility and add a touch of sophistication to the vehicle's front end. The LED rear combination taillights provide a distinctive and stylish appearance, ensuring visibility from the rear. Automatic on/off headlights offer convenience by automatically activating the headlights in low-light conditions. Body-coloured door handles seamlessly blend with the vehicle's exterior, while the body-coloured power door mirrors feature integrated turn signal indicators for enhanced safety and visibility.
The 2023 Mazda 3 presents an impressive selection of engine options that excel in performance and efficiency. The Mazda 3 GX features the Skyactiv-G 2.0 engine, boasting a DOHC 16-valve configuration with four cylinders in-line, delivering 155 horsepower at 6,000 rpm for a spirited and agile driving experience. The Mazda 3 GS shares the same specifications, ensuring dynamic performance throughout the lineup. The Mazda 3 GT is equipped with the Skyactiv-G 2.5 engine for those desiring even greater power. This engine retains the DOHC 16-valve, 4-cylinder in-line configuration but offers enhanced displacement and performance. With the Skyactiv-G 2.5 engine, the Mazda 3 GT delivers robust horsepower and torque, enabling exhilarating acceleration and confident passing capabilities.
Rearview Camera
The 2023 Mazda3 has a reliable rearview camera, providing enhanced visibility and safety while maneuvering in reverse. It assists drivers in parking and avoiding obstacles for a confident driving experience.
8.8-inch-wide colour display with Mazda Connect
The 2023 Mazda3 boasts an impressive 8.8-inch-wide colour display with Mazda Connect, delivering seamless integration of entertainment, navigation, and communication features, ensuring an immersive and connected driving experience.
Meter set with 7-inch LCD Display
The 2023 Mazda3 features a meter set with a 7-inch LCD, providing clear and vibrant information at a glance and enhancing the driving experience with its modern and intuitive design.
Dynamic Stability Control
The 2023 Mazda 3 features Dynamic Stability Control. This cutting-edge safety technology helps maintain vehicle stability by monitoring and adjusting engine power and braking force, ensuring a secure and confident driving experience.
Advanced Blind Spot Monitoring System
The 2023 Mazda 3 has an Advanced Blind Spot Monitoring System, which alerts drivers to vehicles in their blind spots, enhancing safety and reducing the risk of accidents during lane changes.
Rear Cross Traffic Alert
The 2023 Mazda 3 features a Rear Cross Traffic Alert. This advanced safety feature helps detect approaching vehicles when reversing, providing additional protection and peace of mind while maneuvering in tight spaces.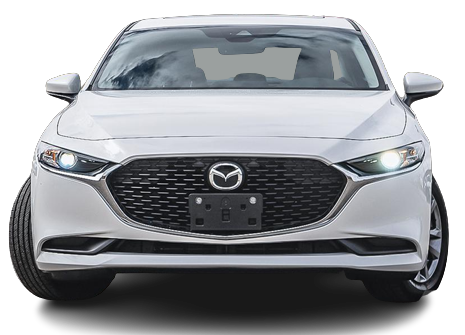 Engine: 2.5L 4cyl
HorsePower: Power 250 hp @ 5000 rpm
Torque: Torque 320 lb-ft @ 2500 rpm
Frequently Asked Questions
Q: What are the engine options available for the 2023 Mazda 3?
A: The 2023 Mazda 3 offers two engine options: a 2.0-litre Skyactiv-G engine and a 2.5-litre Skyactiv-G engine, providing a blend of efficiency and performance to suit your preferences.
Q: Does Skyactiv require premium gas?
A: Skyactiv engines are specifically designed to operate on regular-grade gasoline. While using more expensive premium-grade gasoline could result in a slight boost in torque and horsepower, the Skyactiv engine is optimized to perform efficiently and effectively with 87-octane gas, delivering its intended output figures.
Q: Is the Mazda 3 safe?
A: Certainly! Undoubtedly, each variant of the 2023 Mazda3 is equipped with i-Activsense safety features, guaranteeing comprehensive protection during your journeys. Additionally, the 2023 Mazda3, recognized as an IIHS Top Safety Pick, incorporates extra rear side airbags to enhance its exceptional safety performance further.
Contact Mazda Windsor to learn more about the 2023 Mazda 3 available at Windsor Mazda. Our knowledgeable and friendly sales representatives will be delighted to provide detailed information about the 2023 Mazda 3, including its features, specifications, pricing, and options. They can also assist you in scheduling a test drive to experience the Mazda 3 firsthand. Contact us today.